Once upon a time, red lipstick intimidated me. I would admire women brave enough to wear it, whether they were celebrities, rockstars, models or everyday people. When I started wearing makeup in high school I stayed away from red, and didn't find the courage to try red lipstick until later — and once I finally did, I didn't think it flattered me at all.
When my interest in makeup reached a new plateau a few years ago, though, I tried red again since I knew better what to look for considering my skin tone, eye and hair color. Now it's my favorite lip color and I own many red lipsticks I greatly enjoy and wear often on evenings and weekends out and about. I haven't quite gotten to the point where I'm comfortable wearing red lips at the office, but one day I will be, for sure.
I now present my five favorite red lipsticks — the ones that truly support my belief that red is a perennially feminine, powerful and classic shade that women everywhere can confidently wear if they so desire.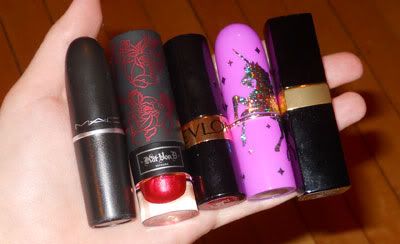 1. Adora by Kat Von D for Sephora
This metallic foil-finish red easily made my list. It goes with my skin tone, which tends to lean somewhat warm, and has a bit of an orange/gold undertone. It wears well and offers full coverage. It's just a unique lipstick all around. No wonder it sold out so fast! I'm fortunate to have a couple backups, although I heard rumor via Kat's own Twitter that Adora will become part of the permanent collection.
2. Retrofuturist by Lime Crime
This is a "true" red if I ever saw one, and very bright and bold. It has a lip-staining effect so it wears off without looking ghastly. I love the full coverage and subtle shine, which blots down nicely to more of a matte finish. Plus, who doesn't love a lipstick case printed with a holographic unicorn??
3. Russian Red by M.A.C.
I've heard some makeup bloggers claim that this lipstick is a blue-red, but I find it to be pretty neutral. It is truly gorgeous — a rich matte-finish red that reminds me of what pin-up models and starlets from the golden days wore. When I wear this, I feel like I channel a little bit of those women's classic glamor — which is a hell of a confidence boost!
4. Vendôme by Chanel
This is a brownish-red from the Rouge Coco line. It has a smooth, creamy finish and wears quite long. I like this red for formal events, as it is not as bright as other reds I've listed, and therefore seems more appropriate by that virtue. I also use a lip liner (Red Enriched by M.A.C.) because without it, the lipstick bleeds a little.
5. Cherries in the Snow by Revlon
Revlon has so many beautiful colors in their lineup, including tons of bold reds (and oranges, and pinks, and browns, and…). This contains blue tones, which make teeth look whiter, and a fuchsia tilt, as well. I like the shiny finish on this one, along with its creamy texture. It wears fairly well and the price is just right.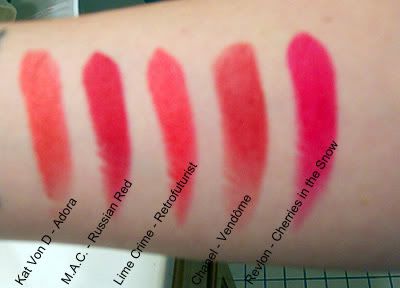 What red lipsticks light your fire?